Our Company
Spectrum Machinery Inc., established in 1987, represents plastics machinery manufacturers who are recognized as the market leaders in their respective disciplines. We are the largest provider of plastics machinery and technology in the Northeast.
Our extensive experience, has earned us the privilege of working with Extrusion, Injection Molding, Blow Molding, and Thermoforming processors to provide the best path from Pellet to Product.
Our People
The SPECTRUM group has a combined experience total of nearly 170 years in the plastics industry, right in your neighborhood. We aren't just 1 or two people with some plastics experience…we are 5 individuals, averaging almost 35 years of experience in the plastics industry, who support each other – and YOU! As Plastics processing practices continue to change, we embrace the challenges created by those changes professionally, with solutions from forward-thinking, service-oriented, manufacturers.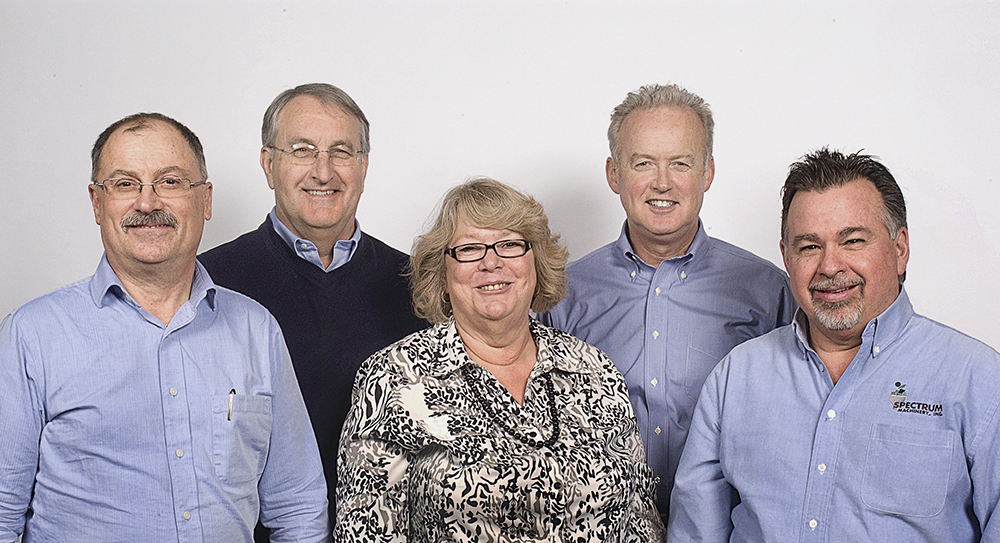 Pictured from left to right: Tom Tomaszek, Bob Newton, Linda Gehman, Scott O'Gara, and David Morin
Our Customers
We understand that SPECTRUM would not enjoy our market position and reputation without YOU…our customers. We strive to solve your processing issues and address your concerns in a manner that satisfies your needs and earns your respect and loyalty.